Um, is it me or do you smell

cotton candy

?

Bubble gum

?
Abby must be on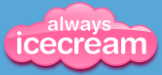 again!
This has got to be the sweetest, girly-est website I have EVER seen! And every time that girl of mine signs on, I SWEAR I can smeeeeelllllllll SUGAR!!!!! I even feel like this review should be entirely pink....but I'll spare you that one! ;o)
Always Icecream
is an educational, fun, social website geared for girls ages 7-12. If I were to be entirely honest.....I have dreaded writing this review! Why, you may ask? Because this is the one review that we have enjoyed so much that I want to make sure not to leave anything out! This website offers so much!
First, there's the great educational games/drills/exercises! AI covers math, language arts, geography (see picture below), history, science, music, art, typing, foreign languages, and Bible! whew......
Parents are sent weekly updates via email. (Parents are given a complimentary account that links to their daughter's so that they may be aware of what Little One is doing.)
Second- let's talk FUN! There's a video round-up with everything from horses to how to draw. (Don't worry- this is moderated, videos are reviewed before they are efer posted!) There's a "Mini World" where girls can use scoops (currency) they have earned from the educational activities to buy and furnish/decorate their own house...or palace, even! And this.......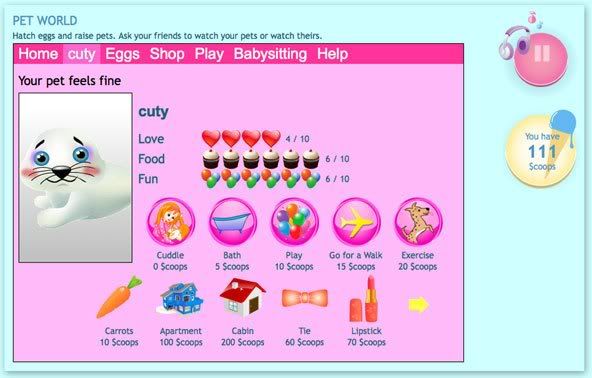 this is Pet World....Abby's version of "You had me at 'Hello'!"!!!!!!!!
Did I mention they can listen to catchy tunes while on the site?
And lastly, there is a social aspect to this website that some of you may love and some of you may hate. Let me just tell you this to put your mind at rest- ***Content on Always Icecream is subject to moderation, contains no advertising and is blocked to search engines. To assure your child's online privacy the site is certified by Privo. (I quoted this from fellow crewmate Roberta from over at
Pondering on the Prairie
- go read her review as well!) There are Cutey-Patootys on there telling about the new horse they just got or their trip to DisneyWorld......it is perfectly adorable! And I honestly feel very safe having Abby get on it and converse because I know they are policing every bit of content that spills onto the screen.
Ok, here comes my thoughts and opinions......in pink! It had to be done, People!
This website is perfect if your little girl is ready to have some safe fun on the computer. It's $4.99 a month or $29.99 a year which I think is an AWESOME deal for all of the content you get! It goes even one step further and you can get a lifetime membership for $99.99! Oh I can think of a thing or 12 that I waste more than that on....and you should see how thrilled Abby is to get to practice the drills and learning games! As if, for just a moment....in a sea of pink and cotton candy- she has forgotten that she is actually LEARNING something!

Great motto!
Also, in my opinion, the graphics are FABULOUS! I absolutely love that there are NO ads whatsoever to be found on Always Icecream! The only negative I could find is that it's so darn hard getting Abby off!! As I stated earlier, we are THRILLED with this product and hope that you will jump on over and take a look for yourself! Let me know what you think!
Disclaimer: I was given a free membership to Always Icecream in exchange for a fair and honest review.