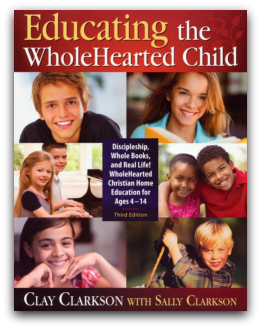 Honey.
This book was sweet honey to my homeschooling soul!
Chock full of everything a homeschooling family needs to hear from how to get started to which picks of literature are ideal living books. I began reading....then I began underlining.....then I began highlighting! This book spoke to me- sometimes reassuringly saying "Good job! Keep doing that!" and sometimes "Oy Marla, was that the best choice for your homeschooling day?" Can I just share with you some of my favorite passages from
Educating the Whole Hearted Child
?
p.13 "Whatever else influences your decision, there is really only one reason in the end that should settle and seal it- that in your heart, before God and by faith, you know that being home with your children is the right thing to do."
p.19 "Your child is made for and naturally longs for the home that you can provide."
p.20 "Every Christian parents will readily affirm that their children are being raised in a Christian home. Probe a little deeper, though, and you'll find that often what they really mean is that their children are being raised in Christian culture. Let me state what should be obvious, but isn't: Christian activities and interests do not make a Christian home A Christian home is never defined by what the children are doing; it is defined by what the parents are doing."
Ouch! That last one stung a little- but definitely struck home. You must understand that while this book is full of awesome homeschooling resources, the Clarksons' goal was to encourage the reader in three particular priorities: Home Nurture, Home Discipleship, and Home Education. Below is the Table of Contents so that you can see the rich sweetness that awaits you....
Table of Contents
PREFACE: A WholeHearted Journey for Home
INTRODUCTION: Christian Homescho
oling — Taking a Step of Faith toward Home
SECTION 1: HOME
Chapter 1: The Christian Home — Learning to Be at Home with Christ
Chapter 2: The Christian Homeschool — Learning at Home to Be with Christ
Chapter 3: Home Nurture — Shepherding Your Child's Spirit to Long for God
Chapter 4: Home Discipleship — Shaping Your Child's Heart to Live for God
Chapter 5: Home Education — Strengthening Your Child's Mind to Learn for God
SECTION 2: LEARNING
Chapter 6: The WholeHearted Learning Model — Living and Learning Together at Home
Chapter 7: The WholeHearted Learning Home — Creating a Home You Can Learn Within
Chapter 8: The WholeHearted Learning Child — Understanding Your Child
Chapter 9: The WholeHearted Learning Youth — Beyond the WholeHearted Child
SECTION 3: METHODS
Chapter 10: Discipleship Studies Methods — The Study of the Bible
Chapter 11: Disciplined Studies Methods — The Study of the Basics
Chapter 12: Discussion Studies Methods — The Study of Ideas
Chapter 13: Discovery Studies Methods — The Study of Learning
Chapter 14: Discretionary Studies Methods — The Study of Living
SECTION 4: LIVING
Chapter 15: Family — Keeping the Vision Alive
Chapter 16: Structure — Keeping the Homeschooling Together
Chapter 17: Order — Keeping the Home Together
Chapter 18: Support — Keeping the Spirit Strong
POSTSCRIPT: The Challenge — Keeping Faith in the Family
RESOURCES
A: Books for the WholeHearted Family
B: Books for WholeHearted Learning
C: Forms for WholeHearted Learning
Notes Pages
Educating the Whole Hearted Child is published by the very reputable
Apologia
and sells for $22.00 on their site. (There's also a great wealth of other resources available on their site so head on over there and check 'em out!)
Time for my thoughts and opinions:
As you can tell, I loved this book and am so glad that I was chosen to review it. It inspires, encourages, and even reproofs when necessary. And I saved the best part to share with you.....those resource pages!!! Oh my goodness! Calendar planning, task lists, reading records and lists, family chore charts- all reproducible! Uh-ma-zing! There's also notes, resource lists, quotations, and supporting scriptures in the side margins!
This may sound like too much in one book but please let me reassure you- this book is an easy read. Great, well-thought out ideas. Definitely going to be a go-to book for me for the next eleven years of homeschooling!
Disclaimer: I was given a copy of Educating the Whole Hearted Child through The Old Schoolhouse magazine in exchange for a fair and honest review.