My family loves nothing more than a good game. I think the only rival to our book collection is our board game collection!
Northstar Games
has produced a challenging game of, you guessed it, wits and wages! A great trivia based game, with numbers as answers, that challenges you to bet on which guess comes closest to the true answer of a question.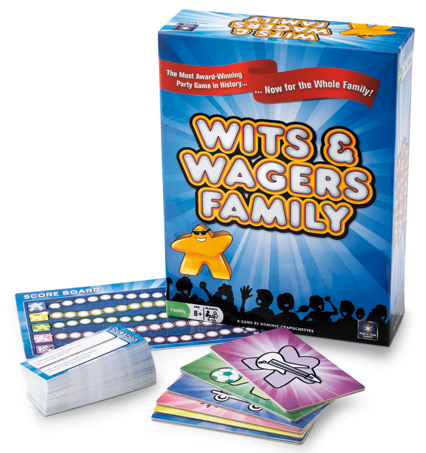 Included in the Wits & Wagers box is your scoreboard, 300 questions with answers, dry erase markers and boards, and Meeples! Yes, Meeples! What are they, you ask? Apparently they are a fun little wooden person that has been popular European strategy gaming but are now being introduced to board games!
Would you like to try your wits at a question? I'll post the answer at the bottom so you won't be tempted to cheat!
How many total Disney princesses are there?
What percent of U.S. households have at least 1 pet dog?
OK, time for thoughts and opinions.....
My kids really enjoyed this game. Ben, my 7 year old, had a hard time with the percentages but endeavored to persevere and really enjoyed the game. My daughter, 9, loved it and was astonished by some of the answers! (Such as there are more than 100 feet in a mile! Amazing!) I wonder about the supplies though, if I were to be honest. I love the concept, but I see buying more dry erase markers in the future- and what about the little boards once they become stained like dry erase boards tend to do? Nonetheless, we loved it and will be enjoying another round with pizza on a Friday night soon! Wits & Wagers sells for $19.99 on
http://www.toysrus.com/
. Northstar also offers Say Anything, which will be my next review!
As always, if you give it a try, let me know what you think!
Oh, your answers! 9 and 37.2%