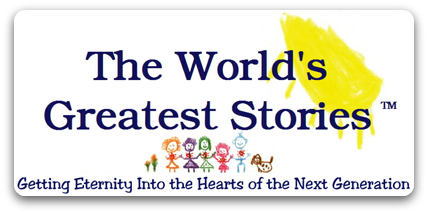 The Black Stallion
.
Sesame Street. Bedtime for Francis.
These were my stories on records that I listened to over and over as a child. Mersmerized by the flashing disco lights on the front of my portable record player, I sat for hours enthralled in great stories, voices, and emotions. My aunt was a first grade teacher and she used to send me these treasures and if you asked me one thing that would take me back to my childhood in an instant, it would be recorded stories.
I was thrilled to be chosen to review
The World's Greatest Stories
for two reasons:
1. My children have the same love of recorded stories as I did at their age and we are CONSTANTLY looking in libraries and thrift stores for something to listen to in the car.
2. These aren't just ANY recorded stories.....these are bible stories taken straight from scripture. Nothing added, noting taken away!
Creator George Sarris has a background in commercial voice-over for such companies as Burger King, PIzza Hut, AT&T, and Honda to name just a few. He is educated in speech and has a Master of Divinity from Gordon-Conwell Theological Seminary. Here is an excellent quote from the website:
Actor George W. Sarris brings to life in the mind's eye the characters and events of some of the most treasured stories in all of history. The texts of all of the stories are taken directly, word for word, from the Bible. They are told, however, using the art of a dramatic storyteller, incorporating carefully chosen music and sound effects. The result is a very exciting story that comes straight from the words of Scripture.
I find the fact that he memorizes each and every passage before recording remarkable- this must be how he is able to dramatize each story so perfectly and be so engaging! At $7.95 per CD, I find The World's Greatest Stories to be a great deal. Even better news is if you order all six volumes, you receive free shipping! You can choose NIV or KJV and there are
six volumes
to pick from as well. Additionally, there is The Real Story of Easter- taken straight from the book of John.
Opinions and observations......
I can see me ordering the other five volumes of The World's Greatest Stories in the future! Abby LOVED Volume 1: The Prophets.
When I asked her why, this is what she said:
"Momma, that man was so good! He wasn't boring at all! He acted out different voices and I liked that he was so dramatic!"
So if your children enjoy listening to a great story while they craft or are riding in the car- please consider going to the
website
. You can listen to an audio clip on the
Tapes & CDs
page. Let me know what you think!
Disclaimer: I was given The Worrld's Greatest Stories, Volume 1: The Prophets for free in exchange for an honest and objective review through The Old Schoolhouse Crew.