prod
I love classical music. Infact, when I am alone in the car- that is my preference on the radio. I started my children listening to classical music at a very young age- just different bits here and there. Mozart for lunch, Handel for playtime, and their favorite was a lullaby CD that I played for them at naptime. I remember when I had an opportunity to speak with them in the car about why I love classical music so....
"Well, I suppose I love music with no words so much because, in my mind, I can picture a story unfolding to the music. Listen....hear that fast music? It sounds like someone whipping up a fabulous baked yummy! Uh oh! The music slowed down, I wonder if their cake fell in the oven!"
And ever since that moment, classical music has grown on my babies.
Maestro Classics
produces a delightful series of educational and entertaining CDs for children ages 5-12 called Stories in music. We had the opportunity to review "The Story of Swan Lake" and were instantly hooked! There are many other versions that you can peruse
here
, everything from "Mike Mulligan and his Steam Shovel" to "My Name is Handel: The Story of Water Music" (which may be our next choice!).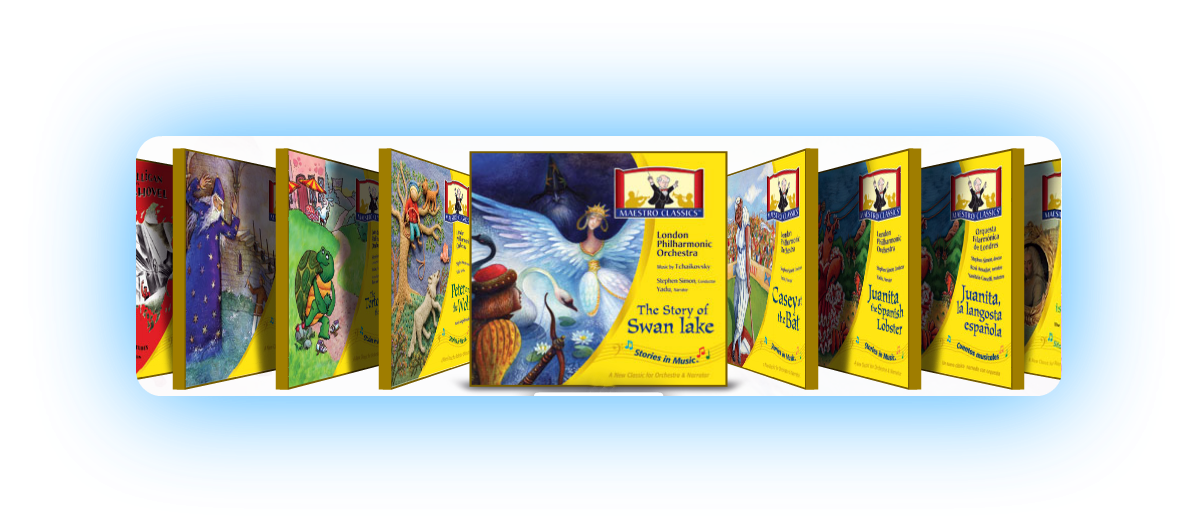 But let me tell you a little about this excellent find!
I could not believe the content of this CD once I got it in my hands! If you're thinking it's Tchaikovsky's work with some fluff, then like myself, you are bound to be pleasantly surprised! First of all, the London Philharmonic Orchestra performs the music! Can you believe it?! So beautiful! Over the music on track one a narrator, Yadu, tells the story of Swan Lake. Track two tells of Tchaikovsky and his life (definitely myth-busting at its best! You'll just have to try it to see!) Track three was a bit different.....
Nope, I didn't paste that on the wrong review! Joe Stump- metal shredder extraordinaire! Joe shreds some Tchaikovsky for us! Now you may be wondering........but go with me on this.....perspective. It's all about perspective. Joe had my 7 year old up and banging- playing a mean Tchaikovsky air guitar! I loved that the folks at Maestro Classics included a sample of how music may be interpreted by someone with a different perspective!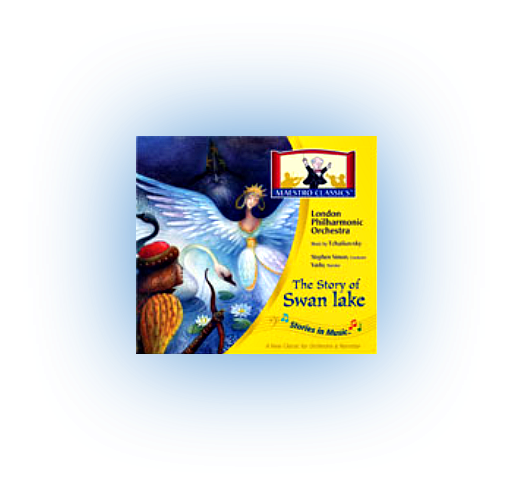 Track four is about the music itself which goes perfectly with the CD cover. Ahhh the CD cover.... a review in itself! Music instruction via piano, games and activities, information on Joe, Yadu, and Stephen Simon (conductor). There's also some very interesting facts about Tchaikovsky! Did you know that he traveled to America to conduct one of his compositions for the opening of Carnegie Hall in New York City?
(Yep, you can find a pic of ANYTHING on the internet!)
So here's our opinions and observations..........
We LOVED "The Story of Swan Lake" by Maestro Classics! Abby found it very interesting and said she really enjoyed it. We liked how the story was shared with the music so that we could feel the story unfold in the rhythm, pitch, and volume of the notes. We also like how the cover was chocked so full of good surprise stuff! At $16.98/$9.98 (CD/MP3 download) I found this to be a great deal!
I also want to share with you that, on their website, is a free
kids club
! It has answers to the puzzles in the CD cover, and a downloadable coloring page for some of the CDs (Swan Lake had one!). But ohhhh wait til you see the
Educational Materials
page! Curriculum guides, lesson plans, and even lapbooks through
A Journey Through Learning's website
! It is a great website, even if you don't buy their product, just to have on your radar!
I hope you will consider giving
Maestro Classics
a shot if you are interested in teaching your children about classical music! If you do, or if you have already used it, let me know! I'd love to hear what you think!