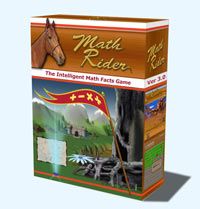 Math Rider! The
Intelligent Math Facts Game
!
We have been using it for a few weeks now and BOTH, yes- you read that correctly, BOTH my kids love it! My first and fourth graders are working on committing their math facts to memory and they need every little bit of help they can get. While I'm not keen on the idea of one minute drills on the times tables, I have to confess that they worked for me! (Thank you, Mrs Tramell!) And yes, I remembered all of my facts in fourth grade, but it was after failing many a one-minute-tests and deciding that me and numbers were never ever gonna be BFFs.......a truth alive and well in my life to this very day. So how was I to help the kiddos? What tricks could I pull out of my magic Mommy hat??
Math Rider! This "intelligent" math game is quite unlike most others. Kids mount Shadow, their trusty steed, and ride off on one of many adventures. Whilst riding, children are quizzed on their math facts. I can't describe it as well as the Math Rider people- this is from their web page:
While the rider is playing, the game learns what the rider knows and what he or she still needs to practice. Every single response (or non-response) is stored in an internal database and statistically analysed by the software. In this way the program is able to custom-tailor to each rider, which questions are asked next. No repetitive drilling of random number facts the rider already knows – but real practice of what actually needs to be practiced!
Plenty of feedback is given on the rider's mastery of each number fact and operation, including an innovative overview map of mastery for each number table. This is highly beneficial for both the rider and the parent/educator. You can see with one glance where your child is at and where he or she might need further assistance. Top challenges are also listed in a separate list box for further easy reference.
This alone might be the best selling point for Abby. She loves to see each piece shaded in and becomes quite confident when she sees something in green. I really like how the gfame can process out how well your child is mastering. I feel like this is so much better than a big red "
X
" over their incorrect answers!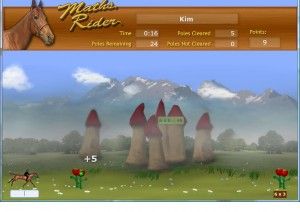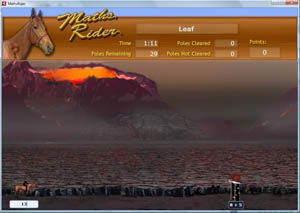 The graphics are quite pleasant and there is a quest map that helps the children to see how far they have advanced in their adventure.
These are the system requirements for Math Rider:
WINDOWS
Intel® Pentium® Pentium 4 2GHZ or faster, 1GB RAM
Windows 7, Windows Vista® Home Premium, Business, Ultimate, or Enterprise including 64 bit editions, Windows Vista SP1, Windows XP Tablet PC Edition SP2 and SP3, Windows XP SP2 and SP3, Windows 2000 SP4, Windows 2003 Server
MAC OS X
Intel Core™ Duo 1.83GHz or faster processor; PowerPC® G4 1GHz or faster processor
Mac OS X 10.4.11 or Mac OS X 10.5.4, 10.5.5, and 10.6
512MB of RAM
The Math Rider site has a special running for
$37
until the 15th, at which time it will go back up to its regular price of $47. This is a great price as that allows for multiple players- not a per player fee. They offer a 30 risk free guarantee and a free trial if you'd like to give it a shot.
As always, if you do try it out, please let me know what you think!
Disclaimer: I was given a short trial of Math Rider in exchange for a fair and honest review.