From
Scienceandmath.com
comes "Amazing Science: Volume 1", a DVD of easy and fun science experiments that you can conduct with your budding scientists at home! Your little Einsteins will learn about electricity, magnetism, heat, temperature, pressure, surface tension, buoyancy, and much more!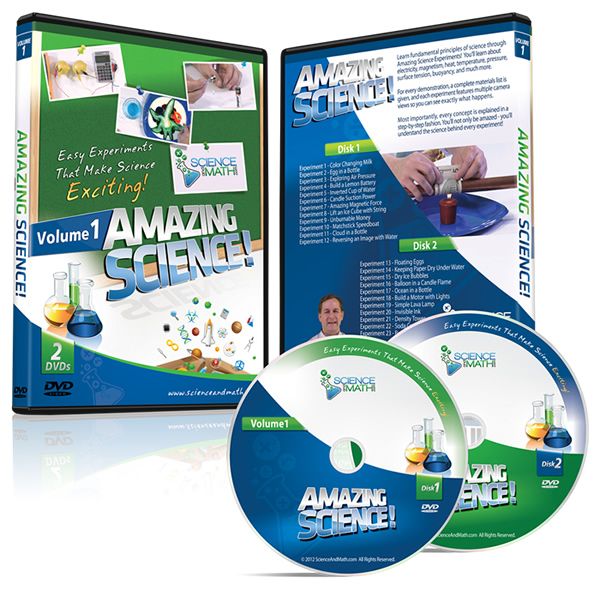 This 2 DVD set comes with complete, concise, clear instructions for 23 different science experiments!
| | |
| --- | --- |
| Disk 1 | Disk 2 |
| 1) Color Changing Milk | 13) Floating Eggs |
| 2) Egg in a Bottle | 14) Keep Paper Dry Underwater |
| 3) Exploring Air Pressure | 15) Dry Ice Bubbles |
| 4) Build a Lemon Battery | 16) Balloon in a Candle Flame |
| 5) Inverted Cup of Water | 17) Ocean in a Bottle |
| 6) Candle Suction Power | 18) Build a Motor with Lights |
| 7) Amazing Magnetic Force | 19) Simple Lava Lamp |
| 8) Lift an Ice Cube with String | 20) Invisible Ink |
| 9) Unburnable Money | 21) Density Tower |
| 10) Matchstick Speedboat | 22) Soda Can Fizz |
| 11) Reversing an Image with Water | 23) Build a Motor #2 |
A supply list is given at the beginning of each experiment, and most experiments require little more than items you may have lying about your house. I think my favorite experiment was the lemon battery experiment. The instructor used two lemons, two pennies, and two nails to power a small calculator! Amazing, indeed!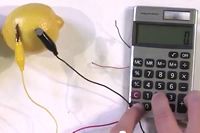 After each experiment, Jason Gibson gives a clear and understandable explanation of the science behind each reaction. A little about Mr Gibson- he's degreed in engineering and physics. He's worked as a rocket scientist with NASA, and has a passion for teaching science and math.
Amazing Science Volume 1
is available at the scienceandmath.com website as a DVD for $19.95or as a download for $17.99. They also offer DVDs on Physics, Chemistry, Math, Algebra, Geometry, and Calculus!
Opinions and Observations
First let me say- you should NEVER sit down to watch a science experiment DVD with the intent for review with a Chemical Engineer. Seriously, it was like watching "The Princess Bride" with me.....constantly reciting the lines. My man JUST. COULD. NOT. HELP. HIMSELF.! (It was UBER cute, though!)
I think this DVD is awesome! I am NOT a general science kind of girl and I find myself teaching it at co-op next year to a group of middle schoolers! I am so excited to have this DVD as a resource for experiments! Also, the material and experiment is presented in such a way as you could totally show the video if you couldn't pull off the experiment and the kids would just love it!
I also think it is a great value. I know $19.99 is the going rate for a DVD- but look at it this way.... that is less than a dollar per experiment!
As always, if you have used this product or if you give it a shot, please let me know!
Disclaimer: I was given a copy of Amazing Science Volume 1 in exchange for a fair and honest review through The Old Schoolhouse Magazine's Review Crew.