Ben Roy is awesome!
Not only has Mr. Roy directed a television science show for children, but he has also taught science methods to education majors at the University of Tennessee at Chattanooga. He has taught in the public school system as elementary and middle school principal and teacher, earning the "Teacher of the Year" award for the Gordon County School System in Georgia. Mr. Roy now travels to various states spreading the love of science- designing all his shows to implement state science objectives.
Ben Roy is the host for an energetic run of science experiment videos entitled
"GO SCIENCE"
sold by

.
We had the opportunity to review two of these videos.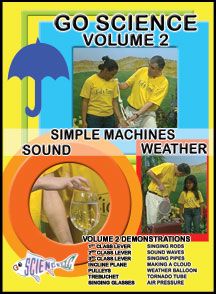 Volume 2: Simple Machines, Sound, Weather
contained the following experiments:
1st Class Lever
2nd Class Lever
3rd Class Lever
Incline Plane
Pulleys
Trebuchet
Singing Glasses
Singing Rods
Sound Waves
Singing Pipes
Making A Cloud
Weather Balloon
Tornado Tube
Air Pressure
A sample of the video can be seen
here.
Each video retails for $8.97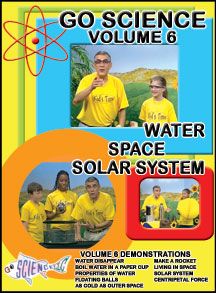 The second video we chose was
Volume 6: Water, Space, Solar System
. The experiments contained in this volume were as follows:
Water Disappear
Boil Water in a Paper Cup
Properties of Water
Floating Balls
As Cold as Outer Space
Make a Rocket
Living in Space
Solar System
Centripetal Force
Each experiment segment takes 3-6 minutes. While Mr. Roy may be a very exuberant actor, it can no doubt be said that his love and passion for science is plainly evident! Intended for children 5-11 years of age, there were some much younger children in his audience that seemed quite pleased with things exploding or small children lifting large heavy items! Mr Roy was very clear in his presentation of scientific facts, and ends every segment pointing to our Creator, God.
Since I ordered through Library Educational Services, let me tell you a little about my ordering process. I found what I needed very quickly and proceeded to check out. We were supplied with a code for checkout but when I entered it I had a few issues. I contacted them via email and let me just tell you- I barely had a sip of coffee down before I had a reply from them, my problem was resolved, my dvds were on the way, and I had a second follow-up email! Great customer service! As well as a very fun product!
Disclaimer: I was provided with two free videos in exchange for an honest and objective review.