I remember, like it was yesterday, being in first grade at Cumberland Heights Elementary School in Bluefield,West Virginia. I particularly remember being in the "Media Resource Center"...which most folks call the library....with the perky young librarian during "Media Time"...aka Storytime. She used to have an exercise that she liked to do with us where we all sat in a circle and she would think of the first line to a story. We would go around the circle adding one sentence to what the person before us added.
"On a dark and stormy night......"
"My momma got me a cup of chocolate milk because I am scarred of storms...."
"And my dog started howling...."
"BECAUSE THE BOOGIE MAN WAS OUTSIDE MY WINDOW!!!!!"
"AAAAAGGGGGGGGGGHHHHHHHHH!!!!!!!!!"
There is just something about telling stories that I have always enjoyed. My kids used to ask me to tell them stories in the car to help travel time pass more quickly- I don't think I have ever turned that request down.
Because of my love of stories, and because we are making story journals and I thought the kids could use some help in broadening their mad story-telling skilz, we jumped on the opportunity to review
Mobile Education's app, Storybuilder.
Mobile Education was begun by a loving father who wanted to develop effective tools for his special needs daughter. He had three goals in mind:
1) Improve paragraph formation
2) Improve integration of ideas, and
3) Improve higher level abstractions by inference
The Mobile Ed website lists Storybuilder's features as:
Record feature allows students to record narrative in their own voice
3 levels of play
Simple and intuitive interface to record narrative
Recorded answers are stitched together to create complete narrative
50 distinct story lines to create narratives from
Over 500 audio clips of questions to guide narrative
Optional question text and answer introduction reinforcement
So here's the nuts and bolts of it broken down for you...you pay $5.99 at the
iTunes
store to download the app to your iPhone. (or iPad or 4th generation iTouch) You initiate the app and begin by choosing the settings specific to your child's level of learning. Level I is all prompted questions with a picture that children are supposed to answer in completesentences. Once your child has though of the answer to a question, he presses "record" and speaks his answer into the mic. Your child completes the series of questions and then listens to the story he has completed! Level II allows the answers to the questions to be prompted on the screen...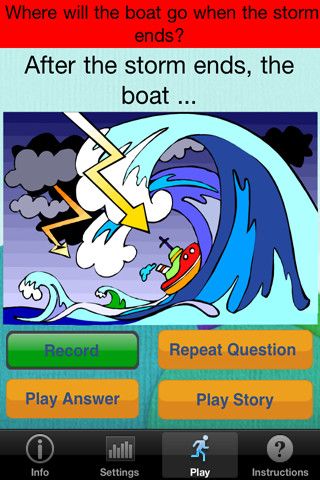 Level III simply provides a pictures which the student must, unprompted, make up a story about.
This came at a perfect time for us because we were taking a road-trip and my kids thought it was a great way to pass the time. I have to admit that we all got a few chuckles out of some of my 7 year old's responses to some of the questions! It was a great way to pass time waiting for appointments and meals at restaurants as well. I don't know about you, but I'd much rather find something like this that my kids will benefit from rather than have them play Bejeweled in the pediatrician's waiting room!
I definitely think it is well worth the $5.99. Also, Mobile Ed has quite a few other apps available. While Storybuilder was the winner of Huffington Post's "Best Reader App of 2011, Sentence Builder and Conversation Builder are award winners as well.
As always, let me know what you think if you give it, or any of
Mobile Ed's other apps
a shot! And if you'd like to check out what other reviewers from the Old Schoolhouse Review Crew had to say about Mobile Ed's products, check them out
here!
Disclaimer: I was given the Storybuilder app in exchange for a fair, honest, and objective review.