Forgive me if this sounds like a commercial for "The Simpsons".....
BUT.............
Apologia.....is there nothing they can't do?????
Seriously, it seems that everything I get my hands on from them is a perfect 10! Encouraging books, science curriculum, children's bible studies, EVERYTHING! And here they've done it again!
You may remember back in February when we had the opportunity to
review Who AM I?
from the "What We Believe" series. This series has four segments which include:
Who Is God?
(And can I really know him?)
Who Am I?
(And what am I doing here?)
Who Is My Neighbor?
(And why does he need me?)
What On Earth Can I Do?
(Available later this year)
This time we had the wonderful opportunity to review
Who Is My Neighbor?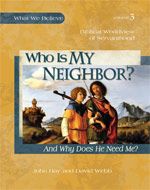 Formatted exactly the same, this study obviously focuses on biblical servanthood. The book contains eight main lessons which include:
Lesson 1: Does Anyone Really Need Me?
Lesson 2: How Can I Make A Difference?
Lesson 3: Who Is My Neighbor?
Lesson 4: Why Did God Make Families?
Lesson 5: What Can I Do For My Country?
Lesson 6: Why Can't We All Just Get Along?
Lesson 7: Who Is God's Family?
Lesson 8: Why Does The Church Need Me?
Also available from Apologia is the full color
notebooking journal
to accompany the hardcover book. It's chock full of questions, activities, mini books, puzzles, and copywork to help retain information covered in the lessons. Speaking of which, the lessons are FABULOUS!! They are full of biographical and biblical examples, stories, and applicable thought provoking questions. Most lessons take about two weeks to complete- some a little more, some a little less. If you'd like to, check out a sample lesson
here
.
My kids LOVE these biblical Christian worldview studies! We make a hot tea and a snack, settle in the livingroom with our notebooking journals and begin our lesson. I read while the kids either work in the journals or color from the corresponding
coloring book
. It is a great bonding time for us and I look forward to moving on to the other books in the series.
This series is available from Apologia's
website
. The lesson book retails for $39 while the notebooking journal is $24 and the coloring book is $8. I find them to be very worthwhile and the children respond to the daily lessons with great conversation and thought.
Ahhh....don't ya just love Apologia?! If you'd like to see what my crewmates thought...
Disclaimer: I was given this Apologia series in exchange for an honest and objective review.