There are few things I love more than a new cookbook. I LOVE trying new recipes and I LOVE seeing what other people have for dinner! Most of all I just really LOVE to be inspired!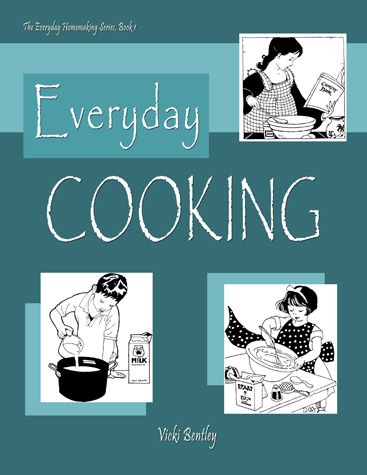 Everyday Homemaking
is a website dedicated to helping homes run more smoothly. Be it cooking, homeschooling, saving money, managing time, or getting organized, Vicki Bentley is determined to help you hone these skills to run a more balanced home. I was given the opportunity to review her e-book, Everyday Cooking, recently. This cookbook is a collection of popular recipes with an emphasis on whole foods. While I reviewed the e-book version ($14.99), there is a 100 page coil-bound version ($17.99) available.
Everyday Cooking
is more than just a cookbook, though. It is chock full of tips and tricks to help you in the kitchen. There are meal planning and shopping hints. There are also sample menus and menu planning forms which are reproducible. Would you like to check out some sample recipes
sample recipes here
?
I know you can't review a cookbook with trying a few recipes so here are a couple I tried....
Red Beans and Rice- I'm sorry my computer was being tempermental and wouldn't let me rotate the pic! This is a family favorite....and it's hard to stick to someone else's recipe when you have your own....but everyone was a good sport! The recipe read easy but I found I had to cook it quite a bit longer than stated. While it was quite a yummy dinner, it was a bit on the bland side. *REMINDER* We Cains spent a bit o time in New Mexico and Louisianna----- we like our food to have a bit of kick to it. Any other person might have thought it was just perfect!
Apple Crisp- My Granny used to make AppleCrisp when I was little. Nothing says "Fall" like breaking out the apple-corer-slicer-peeler thingy! I thought this was delicious paired with some french vanilla ice cream. You probably already have the ingredients in your kitchen for it! Super easy!
As always, if you'd like to see what the Crew had to say on our first official "Molly" review.....
Disclaimer: I was given this e-book in exchange for an honest and objective review as part of the TOS Review Crew.