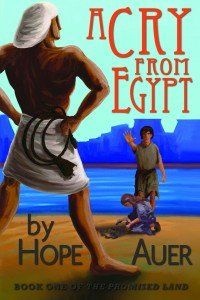 If I were to be completely honest, I would share with you that I signed up for this review solely to feed my daughter's Ancient Egypt fettish. If I were to delve into an even deeper level of relationship with you, I would say this book changed how I think of a major biblical event forever!
It took Abby only 3 days to read
A Cry From Egypt
, authored by Hope Auer and published by Great Waters Press (
Raising Real Men
). You would think that would have been a clue to me. A meaty, 193 (including the study resources and snippet of the next book in the series) pages did not intimidate her at all! She went on and on about how amazing the book was and that I would just love it! She was right.
A Cry From Egypt is a great story written on the events leading up to the exodus of the Israelites from Ancient Egypt. This story spoke to me because I don't believe that I have ever considered those events from the view of the Israelites themselves. The story is very well written and the plot flows cleanly. Another most amazing and fascinating fact about this book is that the author herself was merely 13 when she began penning it! A recent homeschool graduate, Hope Auer began writing this story while studying the Ancient Egypt period for school. She spent many years having friends read it and editting it, then she found another homeschooler to illustrate for her and now has it published! We are on the edge of our seats waiting for the next installment in the series!
If you'd like to add
A Cry From Egypt
to your bedside tabletop, Great Waters Press has the
advance reader copy
for $12.50 with free shipping. We Cain ladies give it 2 thumbs up! The book is recommended for 8 years and up- Abby is 10 and thought it was a little difficult to read in places (hard to pronounce names, feelings being expressed, etc) but nothing that deminished her joy in reading the book at all. If you'd like to see what The Old Schoolhouse Review Crew thought....
Disclaimer: I was given a copy of the book A Cry From Egypt in exchange for my honest and objective review as part of the Old Schoolhouse Review Crew.