Beeyoutifu

l

is a company that I have had the pleasure of reviewing for in the past, but today I'd like to introduce you to their Mineral Makeup line that is made of 100% pure minerals, is all natural and gluten free. As part of this review, I received 1

Mineral Foundation

,

1 Foundation brush

, 1

Eye and/or Lip Color

,

1 Combo brush

and 1 DVD.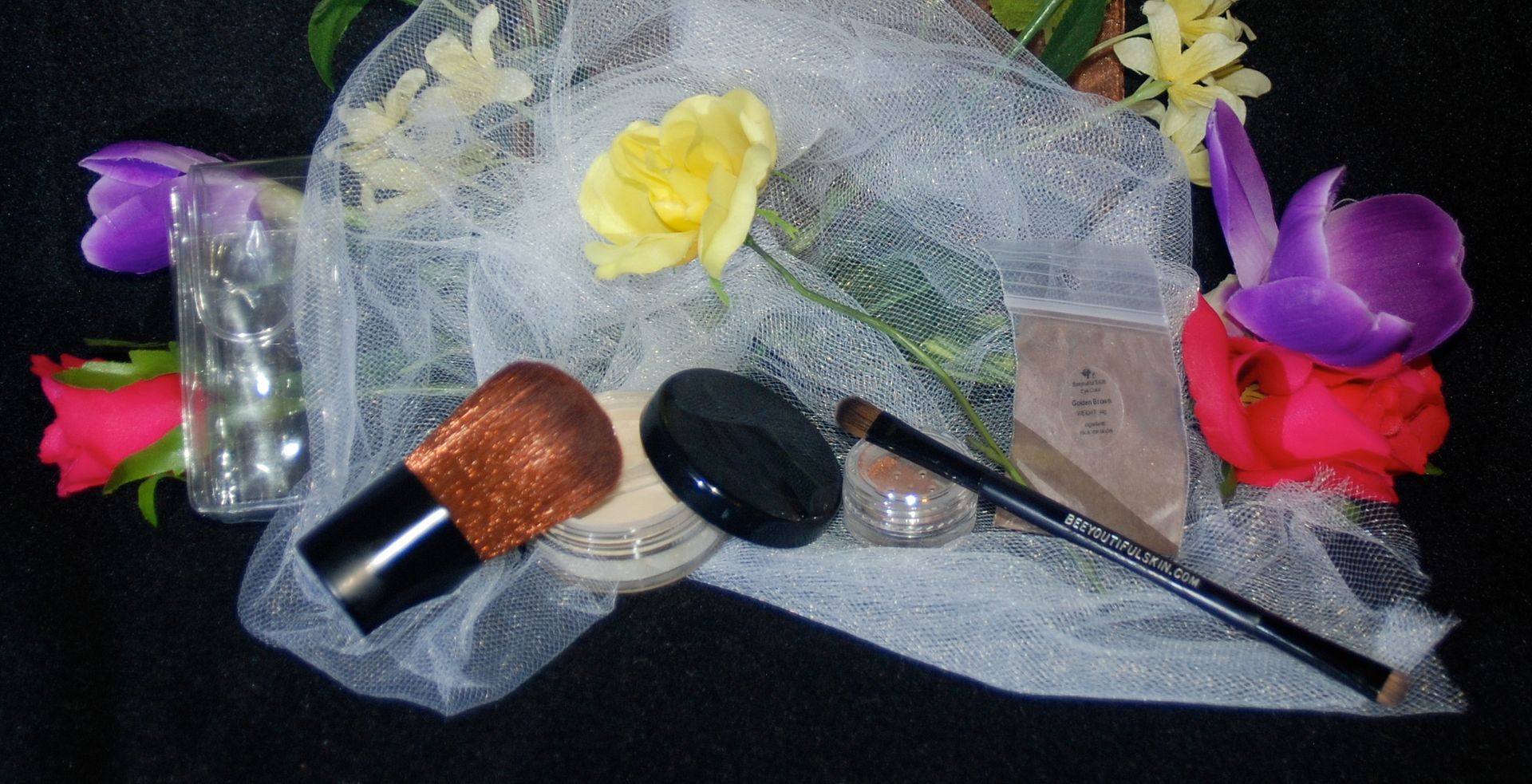 Beeyoutiful Skin make-up is pure, natural, and gluten free. It's free of fillers, preservatives, fragrance, and chemicals as binders.

Their mineral powders are made from crushed minerals extracted from the earth's surface which are safe to use on skin, even the most sensitive skin.

The entire makeup line is all-powder to keep it in its pure and natural state.
Speaking of sensitive skin- boy does this girl have it! I've always taken advantage of the great skin God has blessed me with......and now I'm paying for it! The older I get the more persnickety my largest organ gets! I was thrilled the first time I applied the foundation! Why, you ask?
Weightless. Flawless. It was fabulous! Only possibly to be topped by the ultra luxurious application brush! Oh, and another thing! I am fair skinned- I'm talkin' Snow White after a summer spent indoors! And would you believe they actually had a foundation color to match my skin perfectly?! All foundations are

$25.00

each for 3.65 grams. The Foundation Brush is

$11

.
The eye-shadow color I chose was Moss and let me tell you, it is shimmery and sassy! It covers so nicely and the small container goes a long way! The application brush was also nice in that it is flat and not bushy and one end is short and angled so that you use it for lips or to line your eyes. All eye colors are

$10.00

each and the Multi-Purpose Brush is

$6.50

.

The second color I chose was Cinnamon Rose and- believe it or not- I used it on my lips! I wasn't too sure about trying this but I applied some lip balm, brushed it on, and loved it! It was very subtle and not flashy. It wins major points for the men in your life who do not like to be left with "kissy lips" after a smooch! (Like my hubs!)
Itell you, the more I see of this company, the more I am impressed by them! But if you'd like to see what otherreviewers thought...
Disclaimer: As a part of The Old Schoolhouse Review Crew, I was given the above products in exchange for an honest and objective review.