Never have I been more thrilled to participate in a review than I have been with this selection from
Beloved Books
! Born from a heart to serve up delicious, wholesome, biblical-based entertainment to wanting families, Beloved Books' website is full of tasty audio treats from bible memory to missionary lives to G.A. Henty to anything in between!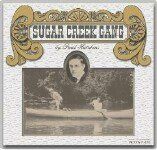 For our complete listening pleasure, we received
The Sugar Creek Gang, Volume I CDs
. Written by Paul Hutchens in 1939, The Sugar Creek Gang is the tale of a group of boys, all choosing to live their life to glorify God while exploring the world around them. These stories have it all- action, adventure, science, struggles, nature- and their told with the heart of a ten year old boy, desperate to please the Lord. There are so many glimpses of grace, forgiveness, conviction, teamwork, trust, faith, and so many more biblical virtues that we, as parents, want to see presented before our children. Produced by Moody Press, Volume 1 of the Sugar Creek Gang CDs includes 12 CDs with the following stories:
The Swamp Robber
The Killer Bear
The Winter Rescue
The Lost Campers
Chicago Adventure
The Secret Hideout
I have to add a personal testimony here....I recently allowed my children to listen to a questionable story that took us two months to complete. In retrospect, it was a tough two months for the Cains. Things were being said that typically would not be said and hearts were hard and ugly to one another. We received The Sugar Creek Gang just as that story was ending, and as we began to listen, I saw quite the change in our family! I saw children begin to compromise and be kind to each other again. I saw consideration and kindness come back to their hearts. Truly, if you put trash in, you get trash out......For out of the overflow of the heart the mouth speaks!
There are 36 stories in the
Sugar Creek Gang series
, which is 100 hours of great fun over 72 CDs! The stories are compiled into 6 volumes, each available for $54.95 from Beloved Books. If you would like to try a sample first, you can order the first story in the series entitled
Swap Robber
for $4.95 which includes shipping! WHAT A GREAT STOCKING STUFFER!!
I can nearly PROMISE that you will fall in love with these characters and stories! My kids beg me to turn them on the second we get in the car and my son has declared this to be the BEST ABSOLUTE BEST thing we have gotten to review yet! Still yet, if you'd like to see what others on the Crew had to say about it.....
Disclaimer: As a member of the Old Schoolhouse Review Crew, I was given this product in exchange for an objective and honest review.