Games. Just the mention of the word turns "school"time into playtime! Who cares if they're still LEARNING?! After all, it's a GAME!

is a fabulous resource for schooling, playing, even waiting! The idea behind their products is that you can construct "busy" bags out of items you already may have lying about your house. These bags could be used to entertain your littles while schooling your bigs, or to keep littles happy while waiting for a doctor appointment. They could possibly be used to supplement math or science curriculum, or to make long road trips less monotonous.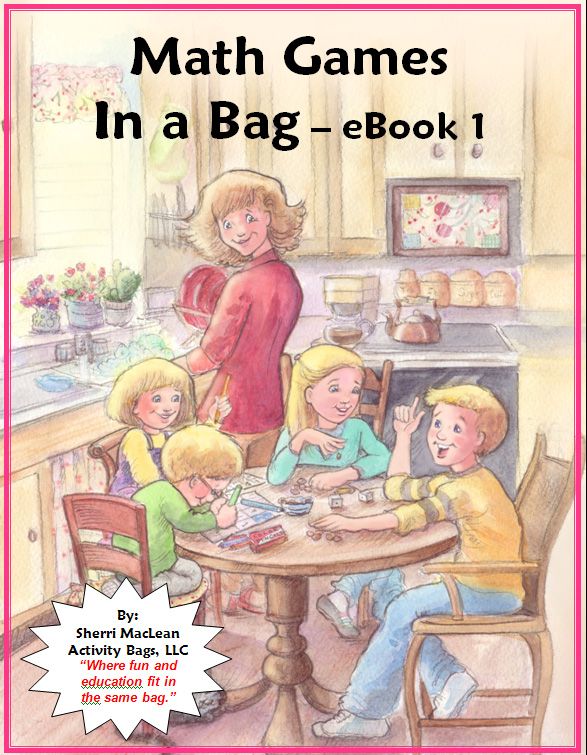 We recently had the opportunity to review
Math Games in a Bag
by the Activity Bags company. This ebook came complete with over 33 ideas and instructions for building gallon-size bags of math fun!
Personal favorite? My kids LOVE to "Take orders"! Abby especially loves to get a pad of paper and write down what you would like for dessert and then fetch it from the kitchen. I would have to say "
Math Menu
" is our personal favorite. Choosing from a take out menu, kids can take down orders on order forms, then add the total including a tip. What an AWESOME way to learn budgeting and how much those beverages add up to! There are many others than are fabulously creative- and they address quite a range of math skills so this is something you could definitely use for more than one year.
Now, the best part is swapping...yep- that's right. Swapping. You (or a friend) organize a swap where you get a number of friends (let's say 10) to make 10 of one math game. You choose a date to get together for coffee and swap with everyone the 10 bags you made that were all the same for one of each of their bags- coming home with 10 different busy bags! The ebook is $15.00 and each bag averages around a dollar to build, depending on the supplies you have at home and the project you choose.
About six years ago I co-ordinated a swap with the
Preschool Activities in a Bag
ebook. We had 25 people participate! Coordinating was not that bad and I had 25 amazing activities for the kids when it was done. I brought the bags out slowly for the kids, and my "bags of tricks" lasted for at least a year! If you're interested in co-ordinating a swap, check out Activity Bags'
free handbook
. Also, they are offering a free e-sampler by filling out a quick survey on
their homepage
.
This is a very beneficial product- in so many ways- and we really enjoyed the opportunity to use it. If you'd like to see what the Crew had to say about the Math Games in a Bag or one of Activity Bags' other products....
Disclaimer: I was given a copy of the e-book Math Games in a Bag as part of the Old Schoolhouse Review Crew in exchange for an honest and objective review.