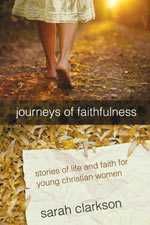 And another great from
Apologia
!
Journeys of Faithfulness
comes from author Sarah Clarkson. This book covers the lives of Mary and Martha, Ruth, Esther, and Mary the mother of Jesus with the intent of deepening the spiritual journey of readers.
Each chapter in
Journeys of Faithfulness
is a somewhat fictionalized account of the feelings, hopes, insights, thoughts, and interactions of these beloved biblical matriarchs. After these stories there are bible readings and devotional questions to answer to help readers become more invested in what they've just read.
I love all things Apologia, and I love all things Sarah Clarkson......but I had a hard time engaging Abby in this book. I'd love to share it with her but it will certainly have to come down the road.....maybe 15 or so. There are a lot of feelings to explore and I'm not sure she is ready for that kind of emotional load- but it was tagged for 12 and up and she's only 10- so we fell on the low end! Also, sometimes I struggle with portrayals of biblical characters that are embellished- it's hard for me to explain what has been fictionalized to Abby......and to remember that it has been fictionalized myself! This book was, of course, very well-written and full of much to ponder and embrace.
All of that to say- it's an inspiring book- and would make a lovely Christmas gift ($13) for those girls in your life that are on the mid to upper end of the teen years and up! Feel free to see what other Crewmates had to say....
Disclaimer: As a part of The Old Schoolhouse Review Crew, I was given a copy of this book in exchange for an honest and objective review.