Can I just say that I truly appreciate the awesome opportunities to review fabulous products that I have through the Review Crew? Sometimes a product (or a company) comes along that I get very excited about!
Grace & Truth
Books is one of those companies, and
Raising Maidens of Virtue
is one of those products!
Grace & Truth Books has a vast selection of God glorifying literature available through books, ebooks, DVDs and videos, bibles, and audiobooks. According to their own statement, they are much more concerned with strengthening God's people and bringing them joy and knowledge than the attempt at following secular trends that consume most Christian bookstores.
I was given the choice of ten products from which to pick a book to review. Though they all looked fabulous, I was drawn to the title
Raising Maidens of Virtue
.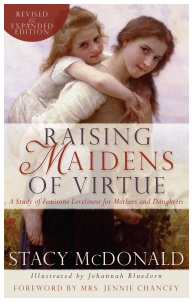 Abby is hitting the age where conversations about life and godliness have to take a more feminine turn. This book is amazing! Not only is it full of great insight and biblical truths regarding everything from modesty of outward adornment to contentment and a gentle spirit- but it also contains focused questions at the end of each chapter that aid in facilitating intimate discussions with your own maiden. You will find at the end of the book a rich literary resource list, plans for hostessing a "maidens" luncheon, and ideas for some beautiful memory making activities.
I look forward to sharing this book with Abby. I look forward to snuggling with tea and talking about these things that will challenge both us to strive together towards being more like the ladies our Maker intended.
Raising Maidens of Virtue is available from Grace & Truth Books for $18.50. Author Stacy McDonald suggests that daughter s aged 12-16 may receive the most from the concepts in the book- but only you can know when your maiden may be ready.
While I felt this to be a case of "fit words in due season", you can see what the other Crewmates had to say about it AND the nine other options from Grace & Truth....
Disclaimer: As a member of The OldSchollhouse Review Crew, I was given a copy of this book in exchange for an honest and objective review.