Last night I sat down in my comfy chair with my electric throw and watched the best movie of all time......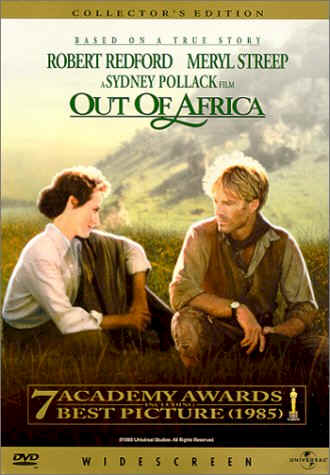 Don't get me wrong, I understand entirely that men do not get this flick. But if there was a Rambo for women- it's Karen Blixen.
And ladies, we should all just go ahead and admit that Robert Redford has NEVER looked so good as he did in
Out of Africa.
I sat there- enthralled instantly by the beautiful scenery and the words "I had a farm in Africa....". I was overcome by the score and completely awestruck by the wardrobes. Karen stirs in me some kind of pensive, fierce independence that I know is not of me.
Then the sobbing began.
I'm currently reading Karen's book
Out of Africa
which she wrote under the nom de plume Isak Dinesen.
It is so beautiful and eloquent- and I feel like I am already in Africa when I pick it up to read. In fact, I find I'm reading it every spare moment I get- in the orthodontist office, in the car, before bed- I even sneak a page in here and there when I'm getting dressed in the morning or eating breakfast!
Can this really be? Am I truly to go THERE? Why has my most gracious God in Heaven allowed me to be a part of what He is doing there? And not just there- but all over the world?! I grapple with the thoughts of not being worthy, not being ready, and not wanting to leave once I get there.