I have been blessed with readers. I honestly don't know what I would've done if both my kiddos came out not loving books. When offered a free book to review....I have a hard time not jumping on it! Sometimes it pays off.....sometimes.... not so much. This time, we came to a cross road.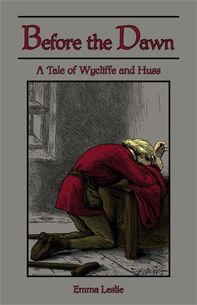 We received
Before the Dawn
, written in 1880 by Emma Leslie, out I was thrilled to introduce Abby to Old English literature. Intended for ages 12 and up, I was pushing Abby a smidge. Nevertheless, historical fiction IS Abby's thing- so we marched on.
The story of Wycliffe and Huss, this book tapped on some foundational issues that arose in the church during the early days of the Reformation. I found the story to be very enjoyable and well written. Though Abby struggled through the vernacular, this book had some jewels between its cover. As we all know, Old English has its fair share of "slang" and unusual vocabulary ("Forsooth!")- but publisher
Salem Ridge Press
has done a marvelous job of inserting footnotes at the bottom of each page with definitions of any words that may be unknown to the reader. Also, there are maps and historical notes to help provide clarity while enjoying the story. Please feel free to
read the first chapter of Before the Dawn
! The book retails for $14.95 for the softcover and $24.95 for the hardcover.
I must say that I am totally impressed with Salem Ridge Press! Initiated by a homeschooler- the mission of the company is to reprint classical literature of the 1800s and early 1900s to be enjoyed by the youth of today. They stand behind stories that are appropriate with good morals. Books range in time from the 1500s to the 1790s. Below is a list of the historical fiction titles by time and location.