Many of you know that I married a science guy....
Noooooooo, not THAT one, Silly!
This one! Andy!
Anywho, we recently had the opportunity to review
Supercharged Science
, an entirely online science program by Aurora Lipper. We love us some science at the Cain house and Supercharged did NOT disappoint! It got the stamp of approval from MY science guy!

Supercharged Science's
e-science
program covers K-12 grades and is meant to encourage children to DO science! With more than a thousand videos and tons of exciting topics, there's a lot for your kids to get excited about. Aurora believes that reading textbooks and then doing a boring experiment or two is not the correct approach to instilling a love of science in our children- she believes hat you START off with an exciting experiment which will then encourage kids to learn more.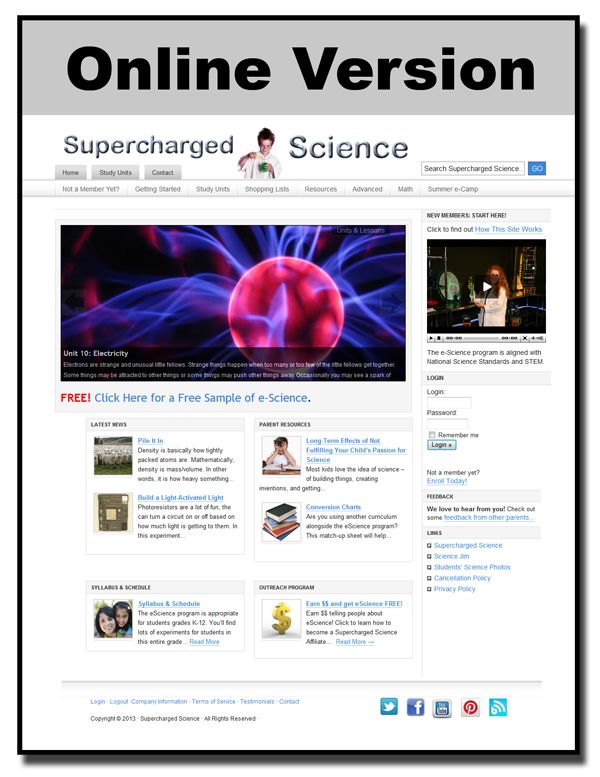 We, seriously, studied 2 lessons in 4 weeks- they are THAT meaty and packed with goodness. We started with electricity and robotics since the kids are taking a beginners robotics course. I went to the website, chose the unit, and then read over the lesson plans for Unit 10. (Yep, lesson plans!) Next, I printed out all of the reading that went with the unit and chose which experiments and videos we were going to cover- then we added in a few awesome experiments (which, sadly, I took no pictures of because- in true Marla form- I was in the moment!)
Supercharged Science was such a hit with my kids that my co-op is planning to use it as their science for 2-5 grades next year. This is awesome because the middle school class will be doing Apologia's General Science.....and Supercharged has a
conversion chart
for using other curriculum alongside of it! This means parents won't have to be covering two totally different science areas between their youngers and their olders! Y'all- I am seriously pumped about this product!
Supercharged Science's e-science program is a monthly subscription. K-8 is $37.00 monthly and high school is $57.00 monthly. Membership includes:
Videos of teaching real science to your kids, just like I (Aurora) do in an actual classroom
Text-book type reading to support the material in the videos
Hands-on activities and experiments, with videos that guide your kids through them. These activities and experiments are what really ignite a passion for science in most kids.
Homework exercises/quizzes so you can see what your kids are really learning, and tips for how to keep track of your progress in a real a science journal
A live science class in different science areas every few weeks where you can connect with me personally
Parent resources for helping you give your kids the best science education they can get
A place to ask me (Aurora) questions (lots of them!)
Recordings of everything so your kids can do the program on whatever schedule AND at whatever pace suits them.
If you'd like to receive free guides, information, and a couple of experiments, sign up for
Supercharged Science's newsletter
.