Part of my mission in life is to help new and prospective homeschool moms navigate the beginning stages of their homeschooling journey. Having finished my sixth year of homeschooling, I feel like I may just be gleaning some valuable wisdom from those first few years. I was very excited to be offered
Joyce Herzog's
Choosing & Using Curriculum: Your Guide to Home Education
book to review.
Joyce is a Christian educator, author, and speaker with over 25 years experience teaching special needs children and 30 years serving the homeschooling community. She has authored many curricula for reading, math, history, family devotions and more.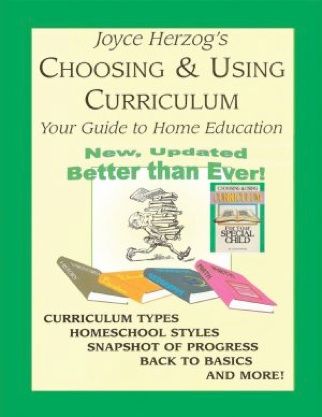 Choosing & Using Curriculum is a great resource for those who are considering homeschooling as well as veteran homeschoolers. Everyone is likely to find something that is helpful as Joyce has included such well thought out, relevant material in this 108 page paperback. Be prepared with a highlighter or post-its in hand when you sit down with this one!
The beginning chapters are especially geared toward considering homeschoolers- laying out the foundations for learning and teaching styles. I particularly loved how she made charts for different curriculum styles (textbook, workbook, directed unit study, real books) with columns that covered advantages, disadvantages, and how to use with special needs students. Seriously folks, sometimes all you need are some good charts with pros and cons to help you make your mind up about something!
From there, Joyce breaks things down further into specific subjects and offers listings of curriculum with a brief description of each. If I were to say that I didn't like something about this book, it would be that the lists are not inclusive- they direct you first to the author's product and then to other well known products. (Teaching Textbooks was not listed under math, Phonics Museum not under reading, etc.) Chapters 19 (Teaching Discernment in Literature) and 25 (Tips for Teaching History) were my two favorite chapters as they were packed with awesome questions to address your students with in regards to their lessons.
There is a companion e-book that goes along with the paperback that lists hundreds of links for homeschooling resources with chapters dedicated specifically to deaf, blind, dyslexic, and autistic students. At $15, I think this is a great pair for those who are new to homeschooling. While I think there are good things for veteran homeschoolers to hear as well, in my opinion, there is nothing new or revelatory.
Please check out what the Crew had to say about this and other products by Joyce Herzog...