I am not an astronomy person. Don't get me wrong, I enjoy a nice evening under the stars and I FULLY appreciate the consequences that would come if the Earth were 10 degrees from the left of where it currently is now---but if you start talking all that space talk.....I totally check out.
Introducing... The Classical Astronomy's
Celestial Almanack
!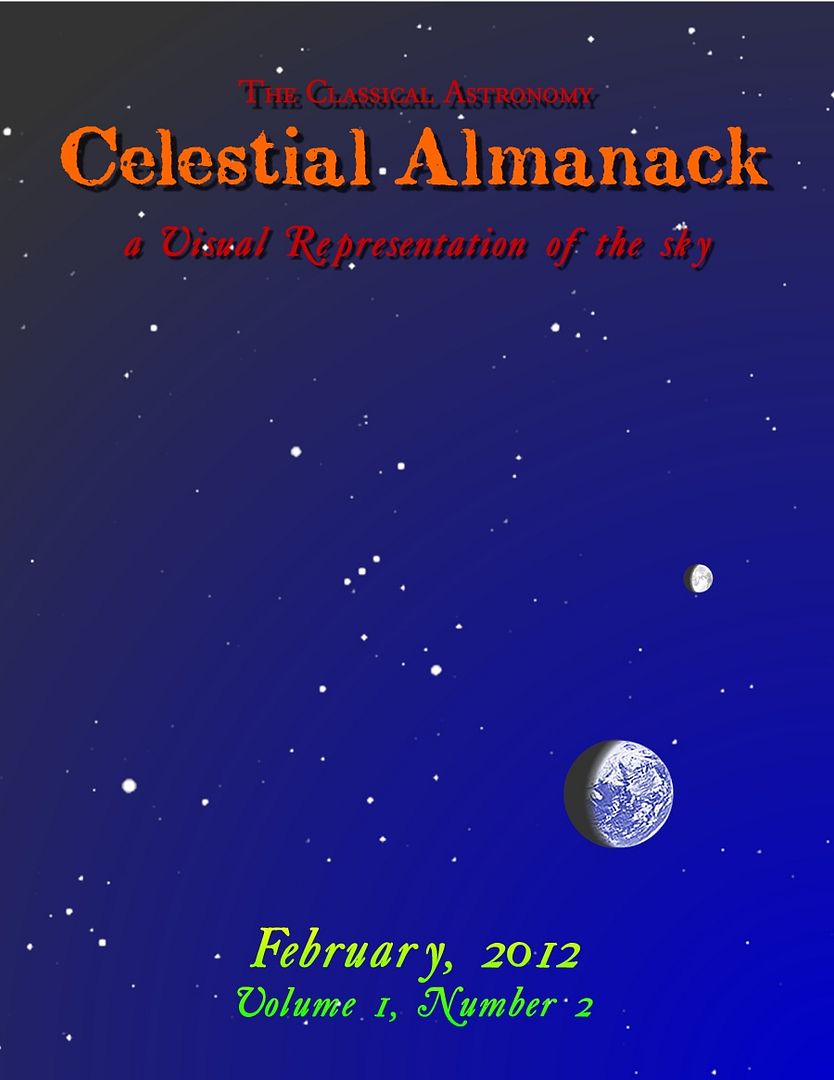 Published by Fourth Day Press, the Celestial Almanack is an illustrated monthly guide to the heavenly happennings of the night sky. This ezine covers everything you would ever want to know about the month's events as they relate to the sun, moon, and stars! The cuh-ray-zee thing, which I still can't believe, is that it only costs $3.00 per month! It is a supreme value for the money- so chocked full of fabulous illustrations to help you find where things are placed in the skies, informative and easy to understand explanations of calendar events (ever heard the term "bisextile"?), and my personal "You had me at 'Hello'" favorite- an introduction page in the grand old style of the original Poor Richard's Almanack!
The February almanack includes five segments:
Astronomical Calendar
Signs of the Season
The Sun's Declination
Seasonal Skies- Evening
The Great Constellation Orion
The N, E, and W Horizons
Dance of the Planets
Jupiter and Venus Approach
The Motion of Jupiter and Venus
Superior Planets- Mars, Saturn
Promotional Partners
While I enjoyed the Almanack for my personal enlightenment, the kids enjoyed it as well. I discussed with them why we have a leap year, how scripture points to the stars (by name!) as far back as the book of Job, and how we MUST view the
"Transit of Venus"
on June 5 because it will not happen again until 2117!!
We took the almanack outside and picked out many constellations, made possible by those fabulous illustrations I mentioned earlier. (They have a 360 degree view in N,S,E, and W facing diagrams!) We recognized the moon and what phase it is currently in, and are keeping track of it's night sky positioning.
I encourage you to hop over to
Currclick
to check out the free preview of the Celestial Almanack for February. Author Jay Ryan did, in my humble opinion, a wonderful job of penning a very family friendly account of what could be a very difficult subject. You can also jump over to Mr Ryan's site,
Classical Astronomy
, for other family friendly astronomy education tools including
middle and high school biblically based astronomy curriculum
and even a storybook entitled
Moonfinder
which helps to teach about the monthly cycle of the moon's phases.
Disclaimer: I was provided a copy of the February Celestial Almanack for free in exchange for a fair and honest review.