I have a great language arts/litersature curriculum for the kids that we really like.
Write Shop
could possibly change my mind, and course of instruction, regarding next year.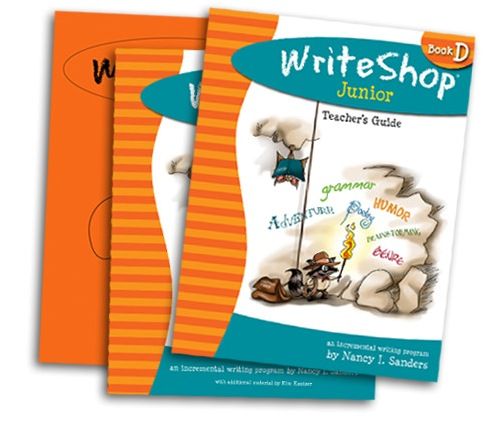 We recently had the opportunity to review Write Shop Junior Book D. This particular book is geared toward 3-4th graders, so I've been working on it with Abby. She LOVES it! She ASKS for it each day!
In my box from the company I received the Teacher's Guide, the Student Activity Pack, and the Timesaver Pack. The Teacher's Guide includes lesson plans, scripts for lessons, teaching instructions, and useful tips from parents that have used Write Shop. The Student Activity Pack includes the
Student Worksheet Pack
plus the
Level 1 Fold-N-Go™ Grammar Pack
. The Worksheet Pack contains:
Pre-writing activities
Skill Builders
Journal prompt pages
Brainstorming worksheets/graphic organizers
Reading log forms
Self-editing checklists
Evaluation Charts
The
Level 1 Fold-N-Go™ Grammar Pack is described on Write Shop's
website
as "Fun reference tools with simple exercises that introduce or review grammar rules and essential writing skills. Printed on brightly colored paper, pages are assembled inside a file folder to form 10 large flipbooks, one for each lesson in Book D." Each of these are completed at the very beginning of each lesson:
Punctuation Marks
Self-editing
Nouns
Pronouns
Verbs
Adjectives
Adverbs
Prepositions
Capitalization
References
The Time-Saver Pack includes print outs on bright colored heavy paper, such as game cards and spinners.

I really loved this as I didn't have to take the time to print everything out before the lesson. Everything came together in a flip-pad style portfolio. Very simple prep!
From the start, I knew I was going to like this curriculum. Some courses have no intro or orientation of sorts. Not so with Write Shop. Their introduction is thorough and complete. The best part? It even includes daily lesson plans to help you determine a schedule that best fits with your needs- two week or three week plans per lesson. I like how this book teaches Abby how to organize her thoughts and brainstorm before beginning her writing. She also began to learn to self-edit in a positive way. Another plus is that this curriculum is chock full of fun games and manipulatives- it's definitely not some dry "Copy these sentences over and over until you hate writing" program!
Please go take a look over at the website! There's just so much to see- including a free sample lesson that you can download. Here's a quick snipet of a lesson:
I saved the best for last for you! Here's a word from the folks over at Write Shop just for you!
"We'd like to offer a special discount to your blog readers! When you post your reviews, feel free to include an offer of 15% off any WriteShop Primary and Junior products in the WriteShop store (including e-books) using coupon code CREW15 at checkout. Offer valid through June 15, 2012."
Disclaimer: I was given the Write Shop Junior Book D program in exchange for an honest and objective review on behalf of TOS magazine.